Self-Guided Adventure
Ishigaki Beach Extension
6 Nights: from US$3626 per person (twin share)
Trip Code: IBES
The islands of Okinawa are just a few hours by plane from mainland Japan, and yet it's a world apart. Let us introduce you to the jewel in Okinawa's crown, the southern island of Ishigaki - closer to Taiwan than Tokyo! Read more >
This 6 night extension is the perfect antidote to a busy sightseeing trip in Japan's main islands. After exploring all those temples, castles and landscape gardens, why not end your trip in style with time to simply unwind on Ishigaki Island at the far southern tip of the Japanese archipelago.
Flying south from Osaka you'll be lounging by your resort swimming pool by lunchtime, cocktail in hand gazing at the ocean. The resort has several restaurants, a café and bar, two pools and a spa, so you'd be forgiven for not venturing any further afield during your time here!
However if you do fancy venturing out, we've included a rental car so you can explore. Kabira Bay is widely regarded as the island's most scenic spot with turquoise water all year round, white sand and jungle covered islets. Ishigaki's interior is covered in tropical rainforest divided by mangrove rivers and dotted with caves.
There are island hopping opportunities too; just 20 minutes by boat is tiny Taketomi, home to water buffalo taxis and Kondoi Beach - a spectacular stretch of unspoilt sand. Iriomote, meanwhile, is altogether a wilder beast, ripe for adventure - try kayaking through the jungle, canyoning and hiking up waterfalls.
What many people find surprising about these little islands is the strong and distinctive culture that they all share. Reflecting a motley assortment of influences from Taiwan, China and America, everything about Okinawan culture is entirely distinct from that of mainland Japan - from its eclectic cuisine and indigenous languages to its traditional sanshin music and eisa dance. This cultural richness, coupled with glorious weather, warm seas and stunning beaches, make the Okinawa Islands one of Asia's best-kept secrets.
Pricing
Please note that this is just a guideline price. Okinawan beach hotel prices fluctuate widely throughout the year with July & August being the most expensive time to travel. Please ask your travel consultant for an exact quote.
What's included
6 nights' accommodation

Breakfast every day

All transport between destinations

Domestic flights to and from Ishigaki Island

5 days' car rental on Ishigaki Island

Airport transfer on departure from Tokyo

Pocket WiFi device

Your personalised InsideJapan Tours Info-Pack
What's NOT included:
International flights

Local transport (buses, subways, taxis) at all destinations unless otherwise specified

Any entrance fees including those for shrines, temples and museums

Transport to the first hotel in Osaka

Baggage handling - you will be expected to carry your own bags for the duration of the trip
Trip Highlights
Kick back and relax by the pool on Ishigaki Island

Island hop to neighbouring Taketoki and Iriomote

Soak up island life in the Ryukyu kingdom
Explore Ishigaki by rental car - stunning Kabira Bay and the mangrove jungles

Take an optional diving or snorkelling trip to see the manta rays
For more information email us: [email protected] or call: + 44 117 244 3380
What, where, when and how...
Ishigaki Beach Extension - 7 Days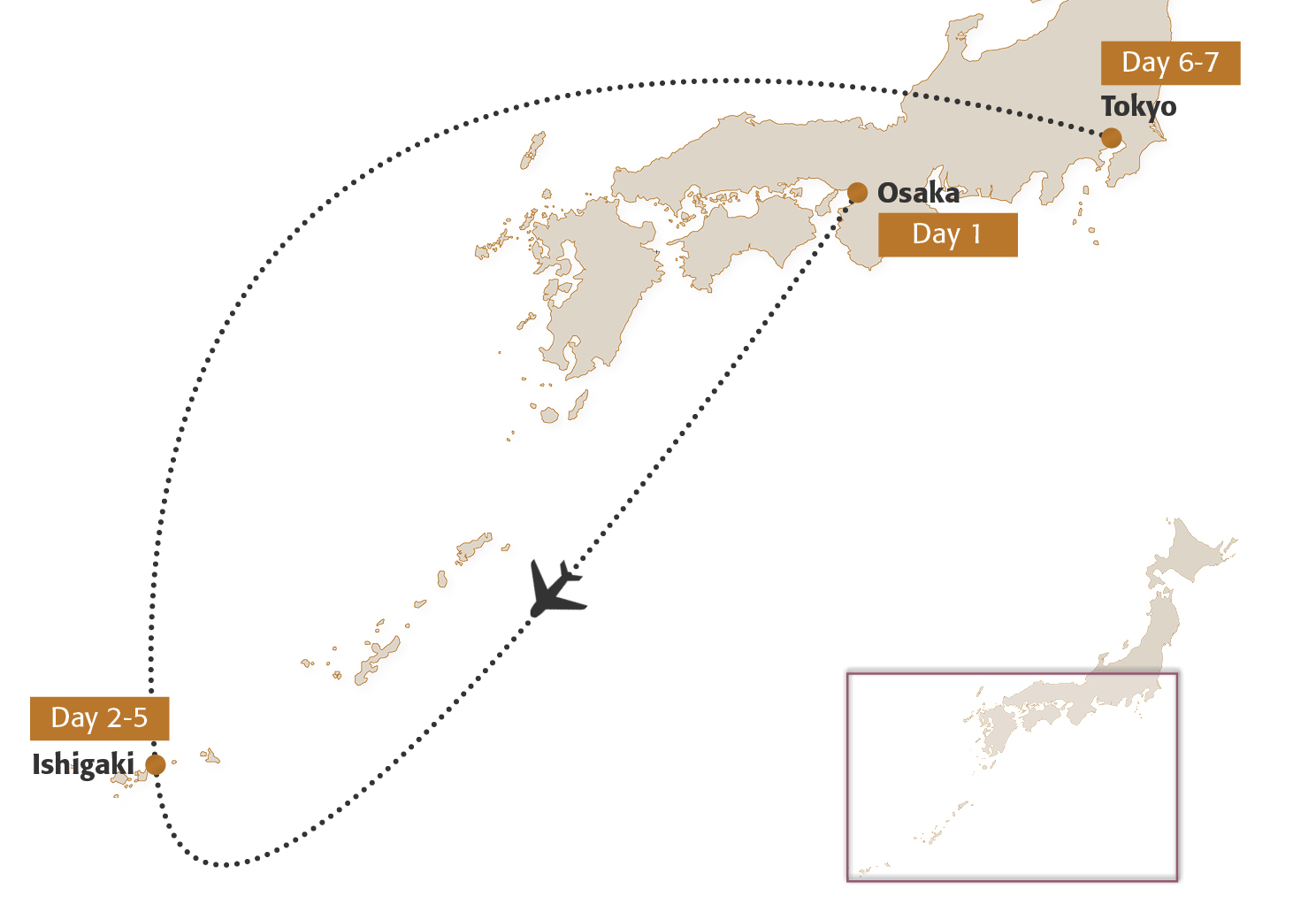 Destinations
Ishigaki Beach Extension - 7 Days - Day by Day
Ishigaki Beach Extension - 7 Days - Accommodation

Ishigaki Beach Extension - 7 Days - Experiences
Day 1

Because the flights to Ishigaki are in the morning, you'll need to spend a night in vibrant Osaka before hitting the beach.

After exploring the wealth of sights Japan's main islands have to offer, we'll book you a night in the vibrant city of Osaka. This is Japan's "food kitchen" so don't miss the street food stalls and izakaya gastropubs near your hotel.
Tomorrow you'll have a fairly early start to reach the airport in time for your flight to Ishigaki.

Overnight: Osaka Marriott Miyako

Day 2-5

Relax by the pool, hop to neighbouring islands or explore Ishigaki's jungle interior in your rental car.

This morning you'll need to take a train to Osaka Kansai Airport from where you'll fly south to Ishigaki. Flight time is around three hours.
On arrival at Ishigaki's brand new airport you'll pick up the rental car included in your package. As public transport is limited on the island, rental car is by far the best way to get around. Luckily the driving here is easy - not much traffic and only a few roads to navigate! Please note you will need to obtain an International Driving Permit in your home country before travelling to Japan.
From the airport it's an easy 30 minute drive to your resort, passing through Ishigaki City - the island's main town. The resort has a whole host of facilities including two swimming pools, a spa, two restaurants and a café and bar - all to ensure you have a care-free stay.
If you can tear yourself away from your resort, there's lots to explore around the island including gorgeous Kabira Bay at the north of the island. From Ishigaki Port in the main town it's easy to make day trips over to neighbouring islands: Taketomi and Iriomote are our favourites.
Much of the sea surrounding Ishigaki is home to vibrant coral reef. There are many schools around the island offering scuba diving and snorkelling for all abilities. You might even catch a glimpse of the famous giant manta rays. Please let us know if you would like to pre-book a diving or snorkelling excursion.

Overnight: Granvrio Resort

Day 6-7

Time to head back to the mainland for a final night amid Tokyo's colourful Shinjuku district.

This morning you'll need to drive back to Ishigaki Airport and drop off the rental car ahead of your flight back to Tokyo.
For your final night in Japan, you'll stay in Tokyo's Shinjuku district. The Tokyo of the movies, Shijuku is ablaze with bright neon lights and endless restaurants, bars and shops - a chance to pick up some last souvenirs perhaps or have a fantastic meal out.
On your last day we will arrange a private car to transfer you to your departure airport. We wish you a pleasant journey home.

Overnight: Hilton Shinjuku
View all days
Day 1

Because the flights to Ishigaki are in the morning, you'll need to spend a night in vibrant Osaka before hitting the beach.

After exploring the wealth of sights Japan's main islands have to offer, we'll book you a night in the vibrant city of Osaka. This is Japan's "food kitchen" so don't miss the street food stalls and izakaya gastropubs near your hotel.
Tomorrow you'll have a fairly early start to reach the airport in time for your flight to Ishigaki.

Overnight: Osaka Marriott Miyako

Day 2-5

Relax by the pool, hop to neighbouring islands or explore Ishigaki's jungle interior in your rental car.

This morning you'll need to take a train to Osaka Kansai Airport from where you'll fly south to Ishigaki. Flight time is around three hours.
On arrival at Ishigaki's brand new airport you'll pick up the rental car included in your package. As public transport is limited on the island, rental car is by far the best way to get around. Luckily the driving here is easy - not much traffic and only a few roads to navigate! Please note you will need to obtain an International Driving Permit in your home country before travelling to Japan.
From the airport it's an easy 30 minute drive to your resort, passing through Ishigaki City - the island's main town. The resort has a whole host of facilities including two swimming pools, a spa, two restaurants and a café and bar - all to ensure you have a care-free stay.
If you can tear yourself away from your resort, there's lots to explore around the island including gorgeous Kabira Bay at the north of the island. From Ishigaki Port in the main town it's easy to make day trips over to neighbouring islands: Taketomi and Iriomote are our favourites.
Much of the sea surrounding Ishigaki is home to vibrant coral reef. There are many schools around the island offering scuba diving and snorkelling for all abilities. You might even catch a glimpse of the famous giant manta rays. Please let us know if you would like to pre-book a diving or snorkelling excursion.

Overnight: Granvrio Resort

Day 6-7

Time to head back to the mainland for a final night amid Tokyo's colourful Shinjuku district.

This morning you'll need to drive back to Ishigaki Airport and drop off the rental car ahead of your flight back to Tokyo.
For your final night in Japan, you'll stay in Tokyo's Shinjuku district. The Tokyo of the movies, Shijuku is ablaze with bright neon lights and endless restaurants, bars and shops - a chance to pick up some last souvenirs perhaps or have a fantastic meal out.
On your last day we will arrange a private car to transfer you to your departure airport. We wish you a pleasant journey home.

Overnight: Hilton Shinjuku
Close all days
Other trips you may like
Enjoy an easy-breezy trip to Japan on this two-centre family holiday.

10 nights: from US$8960 (per family) Read more >

Kyoto
Onomichi
Omishima Island
Takamatsu
Naoshima
Osaka

Discover Japan's artistic heart among the islands of the Seto Inland Sea.

14 nights: from US$5320 pp (twin share) Read more >

Iiyama
Togarinozawa Onsen

Feel a sense of achievement as you complete all six days and 70km of the Shin-Etsu Trail.

6 nights: from US$2002 pp (twin share) Read more >