Self Guided Adventure
Ishigaki Beach Extension
6 Nights: from US$1755 per person (twin share)
Trip Code: IBEC
Allow us to introduce the Okinawa Archipelago: a string of islands that until 150 years ago were a thriving independent kingdom. With white sandy beaches, iridescent seas and dense jungles of mangroves filled with rare wildlife – this is a true island paradise. Read more >
Jetting south from Osaka, you'll land on one of the most beautiful islands in Okinawa: Ishigaki. This white-beached gem is just 40 km (25 mi) from tip to toe, yet it's packed with potential for adventure and relaxation.
Kabira Bay, in the north of the island, is considered one of the most picturesque spots in Japan, whilst the hilly, forested interior of the island holds plenty of hiking opportunities. You could opt to dive with manta rays amid the coral reefs, go underground at impressive limestone caves, or while away the hours with drink in hand as you chill out on the beach. Public transport is fairly limited on Ishigaki, which is why we've included a rental car so you can really explore the island.
You'd be quite justified in spending your entire time on Ishigaki, but don't miss out on the equally beguiling charms of neighbouring islands Iriomote and Taketomi - both just a short ferry ride from the local port. Mountainous and almost entirely clad in jungle, circumnavigated by a single road, Iriomote is famous for its beautiful waterfalls, outstanding hiking, and the rare Iriomote wildcat, endemic to the island. Taketomi, meanwhile, is even smaller - just 3 km (1.9 mi) across - with water buffalo ambling past low-slung red-roofed houses and tranquil beaches with star-shaped sand.
Pricing
Please note that this is just a guideline price. Okinawan beach hotel prices fluctuate widely throughout the year with July & August being the most expensive time to travel. Please ask your travel consultant for an exact quote.
What's included
6 nights' accommodation

Breakfast every day

All transport between destinations

Domestic flights to and from Ishigaki Island

5 days' car rental on Ishigaki Island

Airport transfer on departure from Tokyo

Your personalised InsideJapan Tours Info-Pack
What's NOT included:
International flights

Local transport (buses, subways, taxis) at any destination unless otherwise specified

Any entrance fees including those for shrines, temples and museums

Transport to the first hotel in Osaka

Baggage handling - you will be expected to carry your own bags for the duration of the trip
Trip Highlights
Enjoy the gorgeous beaches of Ishigaki

Hop to the neighbouring islands of Iriomote and Taketomi

Get to grips with Okinawa culture and cuisine
Explore the island's jungle interior by rental car

Opt to snorkel or scuba dive over the coral reefs
For more information email us: [email protected] or call: 303 952 0379
What, where, when and how...
Ishigaki Beach Extension - 7 Days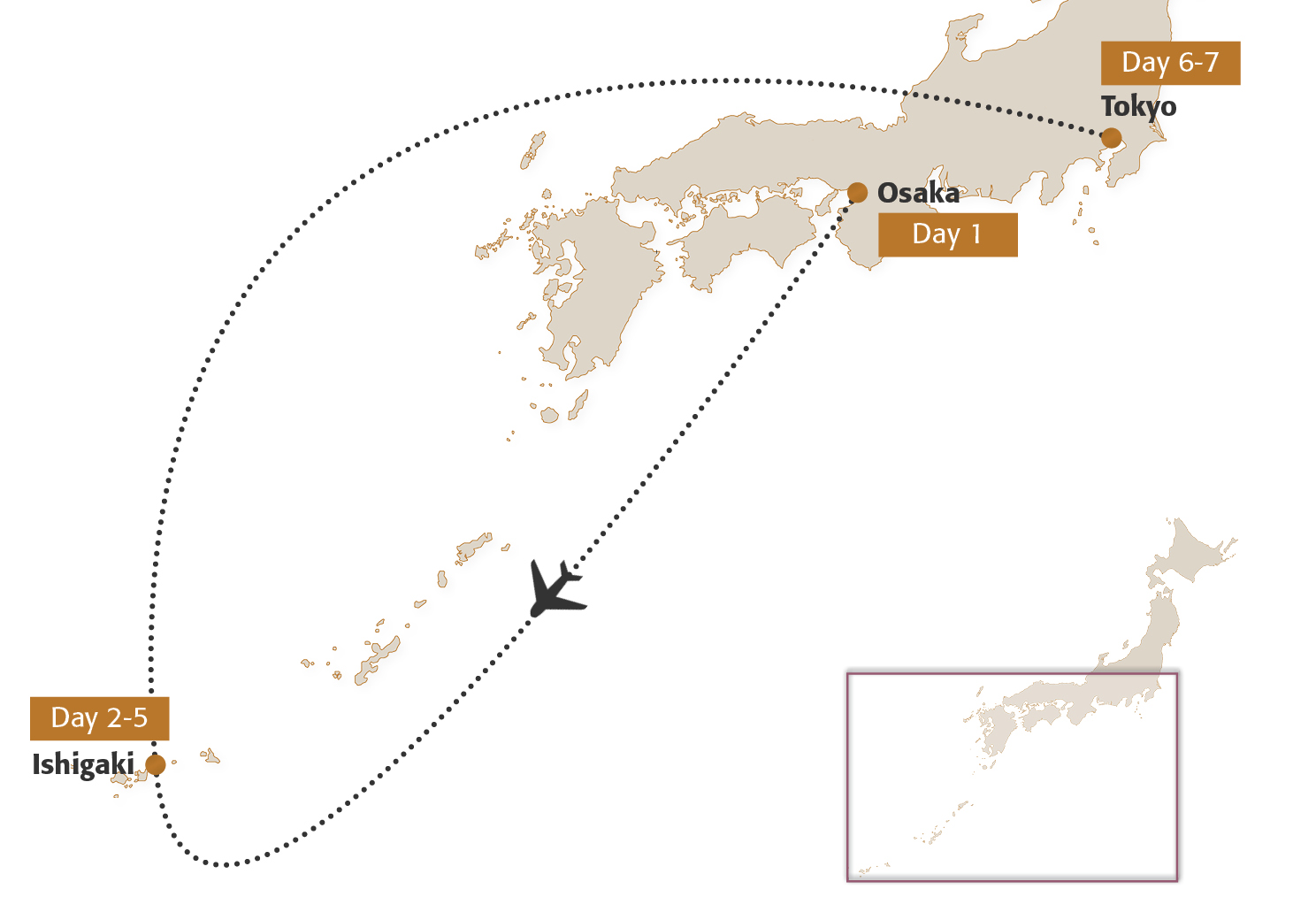 Destinations
Ishigaki Beach Extension - 7 Days - Day by Day
Ishigaki Beach Extension - 7 Days - Accommodation

Ishigaki Beach Extension - 7 Days - Experiences
Day 1

Spend a night in Osaka ahead of your morning flight from Kansai Airport direct to Ishigaki Island

Tonight you will stay in Osaka, in the exciting Dotonbori district. This is a great spot for people watching, shopping and eating - be sure to try some of Osaka's famous street food. But don't stay out too late, as you have an early morning flight from Osaka Kansai Airport to the sub-tropical island of Ishigaki.

Overnight: Cross Hotel Osaka

Day 2-5

Soak up the sun on beautiful Ishigaki Island at the southern tip of the Okinawan Archipelago

A comfortable domestic flight of approximately three hours will take you south from Osaka to Ishigaki Island. At the airport you'll pick up your rental car giving you complete indpendence to explore the island at your own pace. Please note that you will need to obtain an International Driving Permit from your home country in order to drive in Japan.
You have four days completely at your leisure on Ishigaki. You may just like to enjoy the swimming pool or beach at your accommodation - it's a particularly beautiful spot for sunsets. Alternatively there are many other fantastic beaches dotted around the island just a short drive away. Or explore the jungle-covered, mountainous interior of the island. There are several dive schools on the island if you fancy snorkelling or scuba diving - we can arrange this in advance on request.
There's also plenty of opportunity for island hopping. Both Taketomi and Iriomote are short ferry rides away from Ishigaki Port and it's cheap and easy to buy ferry tickets for these excursions on the day. Your InsideJapan Tours Info-Pack will have all the details.

Overnight: Fusaki Resort Village

Day 6-7

It's time to return to the mainland for a final night amid the bright neon lights of Tokyo

You'll need to drop your rental car off back at Ishigaki Airport before flying back to Tokyo. You have a final night in the capital in the exciting Shinjuku district. Next morning it's time to leave Japan - we'll include tickets on the airport bus to either Narita or Haneda Airport.

Overnight: JR Kyushu Blossom Shinjuku
View all days
Day 1

Spend a night in Osaka ahead of your morning flight from Kansai Airport direct to Ishigaki Island

Tonight you will stay in Osaka, in the exciting Dotonbori district. This is a great spot for people watching, shopping and eating - be sure to try some of Osaka's famous street food. But don't stay out too late, as you have an early morning flight from Osaka Kansai Airport to the sub-tropical island of Ishigaki.

Overnight: Cross Hotel Osaka

Day 2-5

Soak up the sun on beautiful Ishigaki Island at the southern tip of the Okinawan Archipelago

A comfortable domestic flight of approximately three hours will take you south from Osaka to Ishigaki Island. At the airport you'll pick up your rental car giving you complete indpendence to explore the island at your own pace. Please note that you will need to obtain an International Driving Permit from your home country in order to drive in Japan.
You have four days completely at your leisure on Ishigaki. You may just like to enjoy the swimming pool or beach at your accommodation - it's a particularly beautiful spot for sunsets. Alternatively there are many other fantastic beaches dotted around the island just a short drive away. Or explore the jungle-covered, mountainous interior of the island. There are several dive schools on the island if you fancy snorkelling or scuba diving - we can arrange this in advance on request.
There's also plenty of opportunity for island hopping. Both Taketomi and Iriomote are short ferry rides away from Ishigaki Port and it's cheap and easy to buy ferry tickets for these excursions on the day. Your InsideJapan Tours Info-Pack will have all the details.

Overnight: Fusaki Resort Village

Day 6-7

It's time to return to the mainland for a final night amid the bright neon lights of Tokyo

You'll need to drop your rental car off back at Ishigaki Airport before flying back to Tokyo. You have a final night in the capital in the exciting Shinjuku district. Next morning it's time to leave Japan - we'll include tickets on the airport bus to either Narita or Haneda Airport.

Overnight: JR Kyushu Blossom Shinjuku
Close all days
Other trips you may like
Tokyo
Kanazawa
Shirakawago
Takayama
Matsumoto
Tsumago
Kyoto
Tokyo

A budget 14-night adventure taking you into the heart of old Japan, with traditional accommodation and visits to the historic cities of Tokyo & Kyoto.

14 nights: from US$2700 pp (twin share) Read more >

Tokyo
Yudanaka
Matsumoto
Takayama
Kyoto
Tokyo

Savour Japan's wintery delights in this carefully curated seasonal itinerary

11 nights: from US$4725 pp (twin share) Read more >

Tokyo
Hakone
Kyoto
Miyajima
Osaka
Takayama
Tokyo

A deluxe two-week itinerary introducing Japan's most iconic sights with the best in luxury accommodation and fine dining included.

14 nights: from US$11367 pp (twin share) Read more >