Takayama
Situated more than 2000 ft above sea lea level and surrounded by the brooding peaks of the Japan Alps, Takayama is a bustling market town.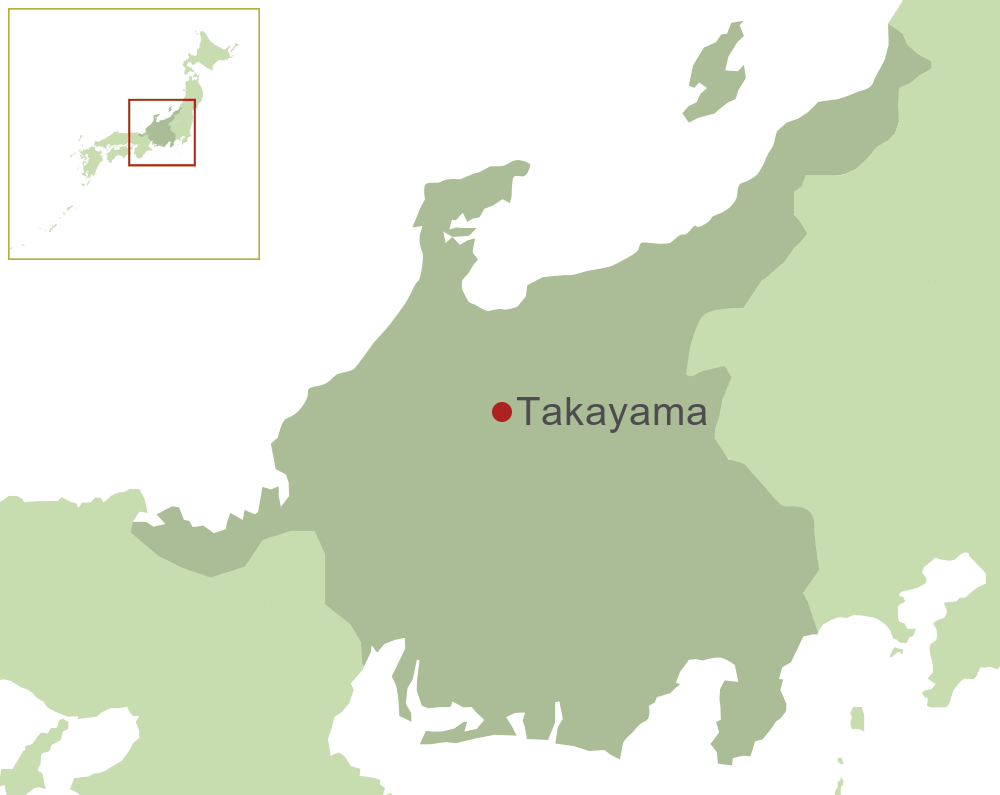 "Takayama has a lot of charm with its traditional wooden buildings, arts and crafts and morning farmers' market. And on top of all this there is even a religious cult to visit!"
Alastair Donnelly, Director
Takayama was once the home of Japan's most skilled carpenters and artisans, and the well-preserved streets and wooden houses on the banks of the Miyagawa River pay vivid testament to this fact. The buildings now house a multitude of craft shops and specialist food stores in amongst which you'll find numerous sake breweries (open for tastings!) and museums covering all manner of things from mechanical dolls to the history of the Lion dance. Add in the friendly locals and wizened old women who bring their wares for sale at the two morning markets and it is no wonder that people fall in love with this place.
This generally quiet rural town is known throughout Japan for its vibrant festivals that shatter the peace twice a year. Tens of thousands of Japanese descend on the town in spring and again in autumn to join the celebrations as spectacular yatai (floats) are raucously paraded through the streets by locals in traditional dress. Even if you are not in town during the festival you can catch a sight of the yatai (floats) in the Yatai Museum or you may spot them being cleaned and repaired in town in one of the various storehouses.
Set amidst some lovely countryside in the hills overlooking the town, the traditional houses of the Hida Folk Village provide a great chance to see a side of Japan and everyday Japanese life which has all but disappeared. This remarkable collection of old "Gassho Zukuri" (praying hands) farm houses, complete with thatched roofs and irori fireplaces, have been moved here from all around the Hida area where many faced destruction due to river damning projects. Painstakingly reconstructed by locals, you can sometimes watch these artisans at work as they care for the buildings and grounds and engage in traditional crafts.
Takayama is not, however, simply a place of tradition; glimmering in the sunlight across the valley from Hida village you will see the sweeping golden roof of Shukyo Mahikari cult's main World Shrine, adorned in the middle with a huge red cherry-like ball. Pay a visit and you will be welcome to look around the kitsch interior complete with enormous fish tank, marvel at the mixture of religious iconography and enjoy a complimentary glass of sake on your way out. Opinion is divided on the sect. Are they a harmless, eccentric group of believers or do they have a more sinister agenda? However, after initial local hostility the Mahikari are largely forgotten about by Takayama residents.
The Teramachi district to the south east of the town centre is home to some more conventional temples and shrines and makes for a lovely afternoon stroll - the pine tree lined paths are quite well marked in English. And, after taking this walk, why not indulge in some of the local speciality cuisine? You'll find lots of local soba noodles available, as well as the famed Hida beef, various hoba miso based products and the delicious mitarashi dango - rice balls dipped in soy sauce and roasted on skewers.
Recommended Accommodation in Takayama
The following are our favourites from among the western-style hotels and Japanese-style inns of Takayama.
Experiences in Takayama
Takayama offers a wealth of exciting experiences that will help you get beneath the surface of Japan's fascinating culture. See below for a few of our favourites
Weather in Takayama
The Climate Guide for Takayama, Japan is perfect for planning your holiday. Monthly weather averages give the best indication of what the weather is usually like for every month of the year including figures for temperature, rainfall and sunshine.
Jan
Feb
Mar
Apr
May
Jun
Jul
Aug
Sep
Oct
Nov
Dec
Max Daytime Temperature (°C)
0
1
5
13
18
21
25
26
21
16
9
3
Min Night-time Temperature (°C)
-8
-8
-5
1
6
12
16
17
13
6
0
-5
Hours of Sunshine (Daily)
3
4
5
6
6
5
5
6
4
4
4
3
Hours of Daylight (Daily)
10
11
12
13
14
15
14
13
12
11
10
10
Heat and Humidity Discomfort
None
None
None
None
None
None
Low
Low
None
None
None
None
Days with some Rainfall
27
24
23
17
17
19
22
19
19
17
19
25
Monthly Rainfall (mm)
80
80
117
138
142
224
250
181
249
122
101
65
UV Index (Maximum)
2
4
5
7
9
10
11
10
8
5
3
2
Featured trips including Takayama
Tokyo
Hakone
Kyoto
Hiroshima
Osaka
Takayama
Tokyo

A classic two-week itinerary covering some of Japan's most iconic locations, including Tokyo, Kyoto and Mount Fuji.

14 nights: from US$3168 pp (twin share) Read more >

Tokyo
Kanazawa
Shirakawago
Takayama
Matsumoto
Tsumago
Kyoto
Tokyo

A budget 14-night adventure taking you into the heart of old Japan, with traditional accommodation and visits to the historic cities of Tokyo & Kyoto.

14 nights: from US$2176 pp (twin share) Read more >

Tokyo
Matsumoto
Takayama
Kanazawa
Kyoto
Mount Koya
Osaka
Tokyo

A superior 13-night gastronomic adventure introducing you to the best of Japan's food culture, from the Alps to Osaka.

13 nights: from US$4992 pp (twin share) Read more >