Osaka
Osaka is the concrete beating heart of the Kansai region - Japan's second biggest industrial area with an output rivalling that of Australia. This is modern Japan writ large - massive crowds, huge department stores, karaoke boxes, bars, restaurants and clubs one on top of another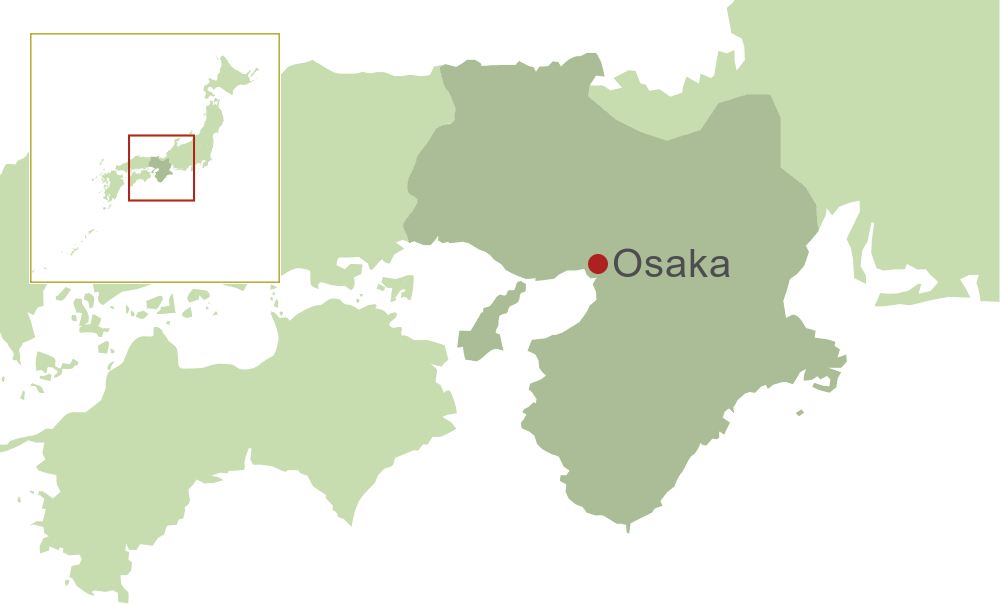 "Osaka isn't like other Japanese cities. It is a little dirty, a bit smelly in summer and people can be a bit rude! That said, you won't have more fun anywhere in Japan!"
Alastair Donnelly, Director
As a large city Osaka has all the galleries and museums you'd expect. But the real Osaka is found on the street, in the entertainment quarters and on the faces of its inhabitants. Osaka has a reputation for a work-hard-play-hard mentality and at 6pm the streets are alive with businessmen, shop workers and students all out to relax and have a good time. And of course, youth culture is everywhere you turn, with video game parlours and karaoke centres lining the covered arcades.
Best of all for the visitor, Osaka is the place to try Japanese food - be it octopus balls from a street-side stand, some of best sushi in the world or the finest traditional noodles.
Subtle it's not. Osaka is the home of Kansai-ben (Japan's very own version of London cockney) and thus the training and proving ground of Japan's comedians and entertainers.
Osaka rivals Tokyo as a centre of Japanese fashion - wander down to American village (America-mura) and you'll find fashion photographers snapping shots of sassy young things hanging out at the concrete park. And as you would expect for such a city, Osaka is a clothes shopping paradise. So get out your cash and credit cards and hit the shops. For those more interested in cameras and the latest electronic gadgets and wizardry the recently opened Yodabashi department store in Umeda has the lot.
Osaka is the distillation of modern Japan; a vast, sprawling urban mess and one of the most exciting cities in the world.
Recommended Accommodation in Osaka
The following are our favourites from among the western-style hotels and Japanese-style inns of Osaka.
Experiences in Osaka
Osaka offers a wealth of exciting experiences that will help you get beneath the surface of Japan's fascinating culture. See below for a few of our favourites
Weather in Osaka
The Climate Guide for Osaka, Japan is perfect for planning your holiday. Monthly weather averages give the best indication of what the weather is usually like for every month of the year including figures for temperature, rainfall and sunshine.
Jan
Feb
Mar
Apr
May
Jun
Jul
Aug
Sep
Oct
Nov
Dec
Max Daytime Temperature (°C)
8
8
12
18
23
26
30
31
27
21
16
11
Min Night-time Temperature (°C)
1
1
3
8
13
18
22
23
19
13
8
3
Hours of Sunshine (Daily)
4
4
5
6
6
5
6
6
5
5
5
4
Hours of Daylight (Daily)
10
11
12
13
14
14
14
13
12
11
10
10
Heat and Humidity Discomfort
None
None
None
None
None
Low
High
High
Moderate
None
None
None
Days with some Rainfall
19
19
20
16
15
18
17
15
17
14
14
16
Monthly Rainfall (mm)
45
59
98
127
142
207
171
98
186
107
68
35
UV Index (Maximum)
3
4
6
8
9
10
11
10
8
6
3
2
Featured trips including Osaka
Tokyo
Hakone
Kyoto
Hiroshima
Osaka
Takayama
Tokyo

A classic two-week itinerary covering some of Japan's most iconic locations, including Tokyo, Kyoto and Mount Fuji.

14 nights: from US$3168 pp (twin share) Read more >

Tokyo
Matsumoto
Takayama
Kanazawa
Kyoto
Mount Koya
Osaka
Tokyo

A superior 13-night gastronomic adventure introducing you to the best of Japan's food culture, from the Alps to Osaka.

13 nights: from US$4992 pp (twin share) Read more >

Tokyo
Hakone
Kyoto
Hiroshima
Osaka
Tokyo

Witness ancient collide with modern as you discover Japan's exuberant pop culture and celebrated traditional heritage.

10 nights: US$2520 Read more >