Samurai Express
7 Nights: from US$2080
Trip Code: 18JS
This fast-paced tour covers cities and checkpoints once connected by the old Tokaido Road which was frequented by samurai and citizens alike during the Edo Period.
Beginning in Tokyo amongst the towering, neon-lit skyscrapers your tour leader will take you to one of his favourite restaurants for your first introduction to Japanese cuisine. You'll also have time to cruise along the Sumida River before alighting at the peaceful Hamarikyu Gardens, former samurai gardens, nestled in the heart of the city.
Heading south-west you'll have time to see more of Japan's stunning natural beauty in the Fuji-Hakone-Izu National Park. If luck is on your side you may even get a glimpse of Mount Fuji! Your evening here will be spent relaxing at a traditional Japanese inn or ryokan, surely a highlight in itself. Don't miss out on your chance to take a dip in the natural onsen hot spring baths, a perfect way to unwind after a long day of sightseeing.
In Kyoto, the ancient capital, you will have plenty of opportunities to explore some of the city's temples and shrines often surrounded by meticulous and picturesque Japanese gardens. Spend an afternoon rubbing shoulders with a maiko, or trainee geisha, as the samurai once did, and enjoy a private tea ceremony experience.
During your time in Kyoto you'll also have time to make a day trip to Hiroshima, the site of the world's first atomic bomb attack and Miyajima, a beautiful island in the bay opposite Hiroshima city - home to hundreds of friendly deer and the iconic "floating" torii gate.
We recommend booking at least one extra night to check in and relax before the tour begins.
Important Practical Information
Group Size: 4 - 14
Fitness: Even when not using public transport, sightseeing in Japan often involves walking between sights, climbing up steps in temples and being 'on the go' for much of the day. To enjoy any of our Small Group Tours you should be of moderate fitness, able to walk and climb stairs without difficulty and able to maintain a pace that is comfortable for the majority of the group.
Single Supplement: This tour does NOT have a single supplement. Single travellers are guaranteed a single room in western style accommodation (6 nights in total). However, singles will be asked to share a room in the Japanese-style accommodation with a group member of the same sex (1 night in total).
Transport: Please note that all transfers are by public transport making use of Japan's first-rate transport network.
Luggage: We highly recommend that to make your stay more enjoyable you pack reasonably light. Large suitcases will be an inconvenience to you. A small case or bag with wheels or a rucksack are most appropriate for this tour as you will have to carry your bags for short distances and some stations do not have escalators or elevators/lifts. You will also need a small overnight back-pack (for up to two nights) for use when we forward our main bags to the next location.
Accommodation: The hotels in Tokyo and Kyoto are equipped with full en-suite facilities (attached bath, shower and toilet). The Fuji Hakone Guest House has its own natural hot spring baths and shower, which can be used privately, but does not have baths or toilets attached to the rooms.
International flights: This tour starts and finishes in Tokyo for arrivals and departures at Tokyo Narita and Tokyo Haneda Airport.
Check-in: Please note that rooms at the first Tokyo hotel are only available from 3pm. (You can, however, securely leave your luggage at the front desk at any time).
What's included
The full-time services of your IJT tour leader

Seven nights' accommodation

Breakfast every day and one evening meal

All transport between destinations in Japan

Seven-day Japan Rail Pass

IC transport card with 2,500 yen credit for city transport

Two-day Hakone Free Pass

Luggage forwarding from Tokyo to Kyoto

Your InsideJapan Tours Info-Pack

Entry fees to Kiyomizu Dera temple in Kyoto and Hiroshima's Peace Memorial Museum

Private local guide for a day in Kyoto
What's NOT included:
International flights

Local transport when not covered by one of the included passes

Baggage handling and luggage forwarding unless otherwise specified

Any entrance fees not listed in the inclusions
Tour Price Information
Tour Price:

From US$2080

No single supplement! Guaranteed single room in Western style hotels.
Extra Nights
Pre-Tour:

Twin Share From US$91 pp

Single From US$104 pp

Post-Tour:

Twin Share From US$104 pp

Single From US$149 pp
Disclaimer Message: Please note: Prices displayed above are all "From" prices as individual prices vary depending on time of year travelling. For full pricing information on specific departures please speak to your Travel Consultant.
Tour Highlights
Stay in a traditional ryokan inn and enjoy hot spring baths in Hakone National Park
Ride the famous shinkansen bullet train
Afternoon tea with a maiko, a trainee geisha
Explore hyper-modern Tokyo and historical Kyoto

Hiroshima's Peace Memorial Museum
For more information email us: [email protected] or call: 303 952 0379
What, where, when and how...
Samurai Express - 8 Days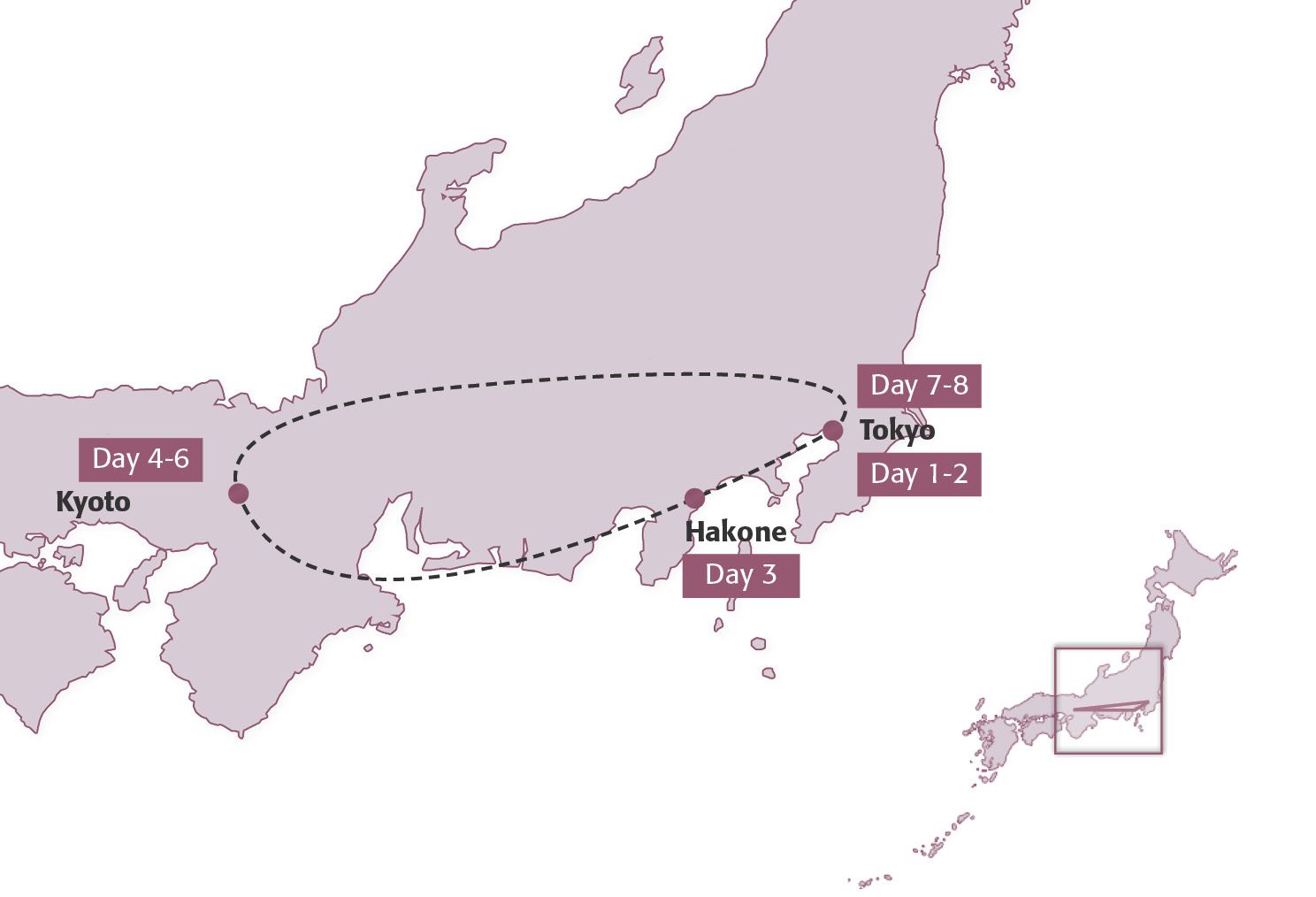 Destinations
Samurai Express - 8 Days - Day by Day
Samurai Express - 8 Days - Accommodation
Samurai Express - 8 Days - Booking
Please contact us to get all the latest booking and date information
No single supplement! Guaranteed single room in Western style hotels.
Day 1-2

Explore Japan's exuberant capital city with your knowledgeable tour leader, who will introduce you to Tokyo's famous hotspots and little-known gems.

Upon arrival at one of Tokyo's airports, you will use your included Manaca card to take the train to your hotel in the Asakusa district of Tokyo. Asakusa is Tokyo's most traditional district, home to the city's oldest temple, the striking Senso-ji, and a lively market where you can sample some delicious street food and browse a huge range of knick-knacks.
You'll have the rest of the day free to rest at your hotel or to explore the area, and will meet your tour leader and other group members at the welcome meeting this evening. A welcome meal is included tonight at one of the fabulous local restaurants as there's no better way to begin getting to know your group.
After a good night's sleep you'll have a whole day to explore Japan's vibrant capital city. Your tour leader will be there to fill you in on the history of Tokyo's famous landmarks and take you to some of their favourite spots. Float down the Sumida River and visit Hamarikyu Gardens, with further options including the chance to visit Meiji Shrine, Tokyo's most important Shinto site; crazy fashions in trendy Harajuku or the towering neon arcades of Akihabara "electric town" – your tour leader will be able to make suggestions depending on your interests.

Overnight: Asakusa Via Inn

Day 3

Enjoy the spectacular views and onsen baths in Hakone, a beautiful national park just a stone's throw from Tokyo.

In less than an hour, using local railway lines, you will be in one of Japan's premier hot spring areas – forest-covered Hakone National Park; home to the iconic Mount Fuji. During your stay here you'll have the opportunity to cross Lake Ashi on a pirate ship, ride the Komagatake ropeway and walk a section of the Old Tokaido road, the ancient road linking Kyoto and Edo (now Tokyo).
Tonight you'll enjoy the hospitality of a traditional Japanese-style ryokan inn, where you'll sleep on futon mattresses on tatami-mat floors – with the chance to soak in the restorative waters of the indoor and outdoor onsen hot spring baths. This is sure to be a highlight of your stay!

Overnight: Fuji Hakone Guest House

Day 4-5

Discover the ancient historical and cultural heritage of Kyoto, the "City of Ten Thousand Temples".

After arriving into Kyoto, we will have the afternoon to visit Kiyomizu Dera, an ancient Buddhist temple and enjoy afternoon tea with a maiko, a trainee geisha - a rare opportunity to peek into the elusive world of geisha culture. The following day we have the services of a local, private guide for the day. Possible

Overnight: Karasuma Kyoto

Day 6

Enjoy an included day trip to visit Hiroshima and the Peace Park Memorial museum, as well as Miyajima island, home of the floating torii gate.

Today we take an included day trip to Hiroshima and Miyajima island. Visit the beautifully designed Peace Memorial Museum and A-Bomb Dome to learn about Hiroshima's tragic history before taking the ferry to the nearby island of Miyajima in the Inland Sea of Japan. This island is famous for it's "floating" torii gate, friendly deer and three imposing mountains - a lovely atmospheric island. You will have time to walk around and explore and there are various shops and food stalls in the area. After the ferry trip across the bay back to Hiroshima, we will ride the shinkansen back to Kyoto where you have the evening at leisure.

Overnight: Karasuma Kyoto

Day 7-8

Return to Tokyo for an exciting final night in the capital.

Boarding the bullet train back to the glittering metropolis of Tokyo, we will also stop off for an included visit to Yokohama or Odaiba. For the final night of your tour you'll be staying in the bustling, high-rise district of Shinjuku; known for its glaring neon, vibrant nightlife and literally thousands of excellent restaurants. There could be no better place to see out the end of your holiday in style and toast the end of a fantastic trip.
On your final morning you can use your included Japan Rail Pass to take the train to Tokyo's Narita Airport or your Manaca card for the train to Haneda Airport for your flight home. We're sure you'll be back before long!

Overnight: The B Ikebukuro
View all days
Day 1-2

Explore Japan's exuberant capital city with your knowledgeable tour leader, who will introduce you to Tokyo's famous hotspots and little-known gems.

Upon arrival at one of Tokyo's airports, you will use your included Manaca card to take the train to your hotel in the Asakusa district of Tokyo. Asakusa is Tokyo's most traditional district, home to the city's oldest temple, the striking Senso-ji, and a lively market where you can sample some delicious street food and browse a huge range of knick-knacks.
You'll have the rest of the day free to rest at your hotel or to explore the area, and will meet your tour leader and other group members at the welcome meeting this evening. A welcome meal is included tonight at one of the fabulous local restaurants as there's no better way to begin getting to know your group.
After a good night's sleep you'll have a whole day to explore Japan's vibrant capital city. Your tour leader will be there to fill you in on the history of Tokyo's famous landmarks and take you to some of their favourite spots. Float down the Sumida River and visit Hamarikyu Gardens, with further options including the chance to visit Meiji Shrine, Tokyo's most important Shinto site; crazy fashions in trendy Harajuku or the towering neon arcades of Akihabara "electric town" – your tour leader will be able to make suggestions depending on your interests.

Overnight: Asakusa Via Inn

Day 3

Enjoy the spectacular views and onsen baths in Hakone, a beautiful national park just a stone's throw from Tokyo.

In less than an hour, using local railway lines, you will be in one of Japan's premier hot spring areas – forest-covered Hakone National Park; home to the iconic Mount Fuji. During your stay here you'll have the opportunity to cross Lake Ashi on a pirate ship, ride the Komagatake ropeway and walk a section of the Old Tokaido road, the ancient road linking Kyoto and Edo (now Tokyo).
Tonight you'll enjoy the hospitality of a traditional Japanese-style ryokan inn, where you'll sleep on futon mattresses on tatami-mat floors – with the chance to soak in the restorative waters of the indoor and outdoor onsen hot spring baths. This is sure to be a highlight of your stay!

Overnight: Fuji Hakone Guest House

Day 4-5

Discover the ancient historical and cultural heritage of Kyoto, the "City of Ten Thousand Temples".

After arriving into Kyoto, we will have the afternoon to visit Kiyomizu Dera, an ancient Buddhist temple and enjoy afternoon tea with a maiko, a trainee geisha - a rare opportunity to peek into the elusive world of geisha culture. The following day we have the services of a local, private guide for the day. Possible

Overnight: Karasuma Kyoto

Day 6

Enjoy an included day trip to visit Hiroshima and the Peace Park Memorial museum, as well as Miyajima island, home of the floating torii gate.

Today we take an included day trip to Hiroshima and Miyajima island. Visit the beautifully designed Peace Memorial Museum and A-Bomb Dome to learn about Hiroshima's tragic history before taking the ferry to the nearby island of Miyajima in the Inland Sea of Japan. This island is famous for it's "floating" torii gate, friendly deer and three imposing mountains - a lovely atmospheric island. You will have time to walk around and explore and there are various shops and food stalls in the area. After the ferry trip across the bay back to Hiroshima, we will ride the shinkansen back to Kyoto where you have the evening at leisure.

Overnight: Karasuma Kyoto

Day 7-8

Return to Tokyo for an exciting final night in the capital.

Boarding the bullet train back to the glittering metropolis of Tokyo, we will also stop off for an included visit to Yokohama or Odaiba. For the final night of your tour you'll be staying in the bustling, high-rise district of Shinjuku; known for its glaring neon, vibrant nightlife and literally thousands of excellent restaurants. There could be no better place to see out the end of your holiday in style and toast the end of a fantastic trip.
On your final morning you can use your included Japan Rail Pass to take the train to Tokyo's Narita Airport or your Manaca card for the train to Haneda Airport for your flight home. We're sure you'll be back before long!

Overnight: The B Ikebukuro
Close all days
Tokyo
Kamakura
Hakone
Kyoto
Tokyo

Our original great value Japan tour

9 nights: US$2333 Read more >

Tokyo
Nagano
Matsumoto
Takayama
Kanazawa
Hiroshima
Kurashiki
Kyoto
Tokyo

A fast-paced tour packing in a great variety of destinations, with minimum inclusions allowing for maximum flexibility.

13 nights: US$3503 Read more >