Like this post? Help us by sharing it!
Sarah Chapman and her husband had a fantastic time with us in Japan in April. She has kindly written a wonderful blog post about the highlights of her trip, which began in Tokyo and covered the Kansai and Chugoku regions – mixing big cities with rural villages, and tiny islands with mountain trails. Here, Sarah gives us just a few of her highlights of Japan.

Having visited Japan 30 years ago, I wanted to show my husband how amazing it is there.  We booked a three-week self-guided trip starting in Tokyo and taking in Hakone, Kyoto, the Kumano Kodo trail, Kii-Katsuura, Osaka, Hiroshima, Miyajima, Kanazawa, Takayama, Matsumoto and back to Tokyo again.  We stayed in Western hotels and traditional ryokan inns, in cities, villages, towns and on islands. We travelled on buses, cable cars and trains – including the wonderful bullet train – and walked miles.
These were our highlights…
Wandering traditional Asakusa
The Asakusa area of Tokyo was beautiful and the first view from our hotel window.  We strolled to the temples among young people dressed in traditional Japanese clothes enjoying the evening.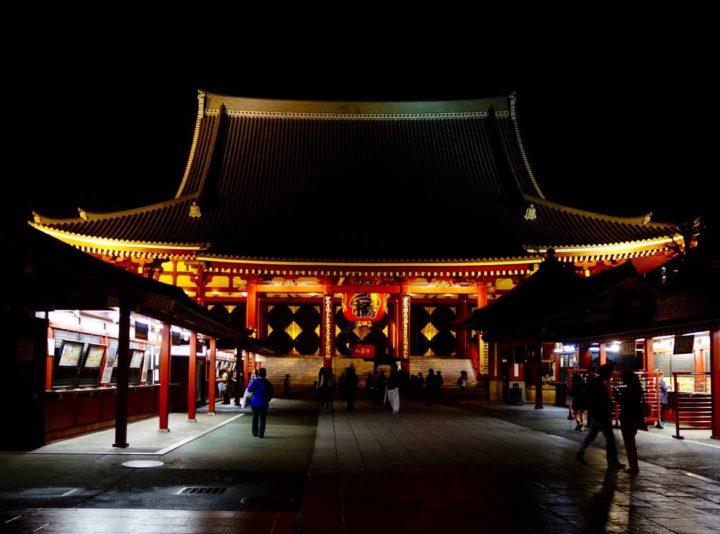 Pink snowflakes of cherry blossom
Cherry blossom was nearly over and it fell like pink snowflakes covering the ground where we walked.
Cleanliness & friendliness
The cleanliness of the cities.  We were told that there were no rubbish bins as everyone took their rubbish home with them – great idea! The bullet trains were cleaned regularly and we were amazed that the train conductors bowed at the door of each carriage as they were leaving.
Japanese people are friendly and helpful.  Whenever we looked lost someone would come to our aid with smiles and gestures – and good English.
Foot baths & sculpture parks in Hakone
We visited the Sculpture Park in Hakone and soaked our feet in the open-air foot bath at the end of a long day before arriving at our first ryokan (Japanese traditional inn). It was here that we ate abalone cooked at our table and slept on futons and tatami mats.
Contrasting extremes on the Kii Peninsula
We loved the extremes from the Kumano Kumo walking trail (through small hamlets where they were growing tea plants) to crowded Osaka and the arcade selling an array of colourful food and clothes.
Geisha-spotting in Kyoto
In Kyoto we walked round the Gion geisha area with a guide and were lucky enough to see many maiko, apprentice geiko (Kyoto dialect for geisha). Their jobs consist of performing songs, dances and playing the shamisen or the koto (traditional Japanese instruments) for visitors during feasts.
Also in Kyoto we were taken on a tour of the many temples and shrines including the Golden Pavilion – covered in gold leaf – and the many torii gates at Fushimi Inari Shrine.
WAK Japan in Kyoto gave us an insight into Japanese culture by explaining the tea ceremony and showing us how to wear kimono correctly. An experience not to be missed! We were even presented with a tea ceremony game to play at home.
Delicious food: From obento to okonomiyaki
We loved the food in Japan including obento boxes, noodle soup and okonomiyaki, a delicious Japanese savoury pancake containing a variety of ingredients, mainly cabbage. It was served on a hot grill on your table with a dramatic flourish!  There was always an array of delicious food for breakfast and dinner served with care and respect by the staff. We never saw the point of the bean curd cakes however much we tried to enjoy them.
My memory of 30 years ago was of plastic food in the restaurant windows and they are still there!
Mountain walks on Miyajima
Our visit to Hiroshima with our dedicated guide was a moving experience but Miyajima was the highlight of our trip, we took the ferry from Hiroshima to this enchanted place and were delighted to see tame deer on the quayside. Iwaso Ryokan looked after us so well, serving oysters and shabu-shabu hotpot and spending time to explain how to eat the food presented in the banquets.
We took the cable car up to the top of the mountain and walked a long way down past temples and shrines, streams and dams, enjoying the new leaves on the trees and the flowers.  When the tide came in the torii gate "floated" in the water, looking even more beautiful at sunset.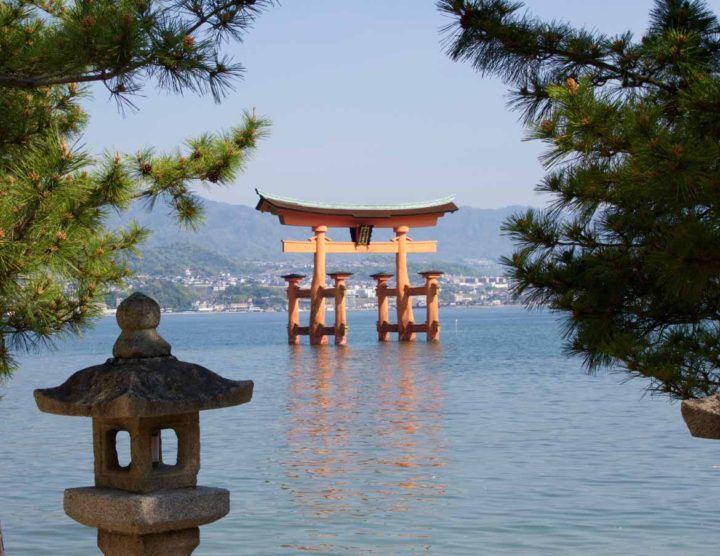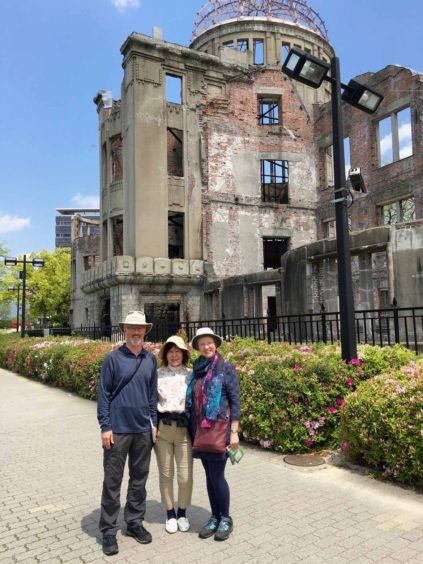 Geisha teahouses in Takayama
We loved the geisha teahouse show in Takayama and I volunteered to join in the drumming – to great applause. We were also shown the gold leaf tatami mats in the room kept for special guests.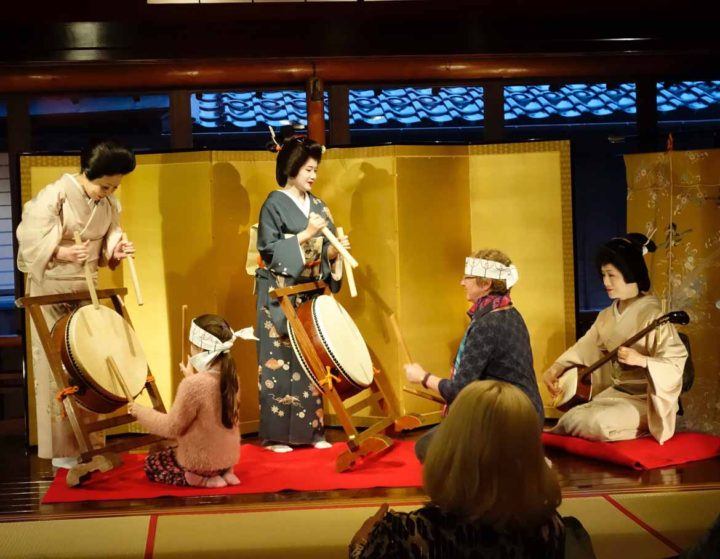 Overall we had a fantastic 3 week tour of Japan and one that we would love to do again – my husband was convinced!
The Chapmans' trip to Japan was put together by Sophie Walker, a Senior Travel Consultant in our Bristol office. Sophie lived in Japan for two years, where she enjoyed taiko drumming and getting involved in the local festivals in her rural town of Takefu. To have Sophie organise your trip to Japan, click here to get in touch.
Like this post? Help us by sharing it!