Like this post? Help us by sharing it!
Hello everyone. Here is the final part of…
The Big List of Stuff to Do for Free in Kyoto!
Admittedly, I was hoping to have 15 items on this list. But alas, I only got as far as 13 (unlucky for some?) Sorry about that, but please enjoy the list and feel free to add a comment.
11. Try Nishiki Market
Peckish? Or just curious about all those strange Japanese ingredients and unidentifiable vegetables? Take a stoll through Nishiki Market which runs parallel with Shijo Street in the city centre. Befriend the kimono clad old ladies giving out free food samples. It's also worth checking out the basement food floors of the big department stores such as Daimaru and Takashimaya for more food giveaways
12. Pop into Kyoto Handicraft Centre
OK, so if you go here, you probably will end up buying something… it is an excellent one stop shop for Kyoto souvenirs. But you can watch Kyoto craftsmen at work for free and the friendly English speaking staff will happily help you try on a kimono, where as a real kimono dress-up experience is pretty pricy.
13. Go Hiking
Daimonji mountain (otherwise known as Mount Nyoigatake), with its huge 'dai' 大 kanji burnt into the hillside, looms over the east of the city. It's an easy and priceless hike over this mountain. The path starts behind Ginkaku-ji (the silver temple) and takes you up to an amazing view spot just about the kanji character.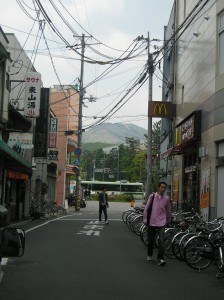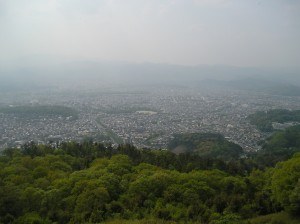 What do you think? Any further suggestions for free things to do in lovely Kyoto?
Like this post? Help us by sharing it!