Self-Guided Adventure
Snow Country
11 Nights: from AU$7372 per person (twin share)
Trip Code: SC0001
There's more to winter in Japan than just skiing. From winter wonderland landscapes around the Japan Alps to hearty and warming food in the backstreet izakaya of the big cities, there's plenty on offer for anyone willing to bundle up and brave the cooler temperatures. Read more >
This itinerary is designed for travel in January and February.
From the Golden Pavilion dusted with snow to the hardy macaques soaking in the hot springs of mountainous Yudanaka, this Self-Guided Itinerary sends you on a journey to experience the charms of some of Japan's most scenic wintery landscapes.

Spring's cherry blossoms and the momiji autumn leaves tend to draw the most interest - and for good reasons - but Japan still has lots to keep you entertained in the winter season. We designed this seasonal itinerary to show off some of the country's frosty highlights on the main island of Honshu, while enjoying a variety of cultural and hands-on experiences and activities.

You will begin your adventure in Tokyo where a professional guide will be ready to help you navigate the neon-lit streets and warren-like subway network in the busy metropolis. Tokyo rarely sees snow in January and February, but be sure to wrap up warm all the same. Round off your Tokyo stay with a fun-filled Izakaya Evening at a variety of Japanese style bar-restaurants with one of our knowledgeable Insiders, where you can rub elbows with the locals as you feast on much-loved wintery dishes.

From the bright lights of Tokyo it's onwards to the snow covered countryside as you make your way deep into mountainous Nagano Prefecture to Jigokudani Monkey Park, where the hot spring-bathing snow monkeys reside. Nagano is also home to Matsumoto, where you'll spend a day marvelling at the unique Black Crow Castle and trying your hand at making some tasty soba noodles, a Matsumoto speciality.

On the other side of the Japan Alps lies Takayama, a small town full of well-preserved traditional streets, houses, and craft and food shops selling tasty local wares, including warming sake from the nearby breweries to help beat the winter chill. You will stay at an authentic inn in Takayama where you'll sleep on thick, cosy futon on the tatami mat floor, and try a delicious traditional kaiseki course meal in the evening.

No trip to Japan is complete without a stay in the cultural heart of the country; Kyoto, the city of a thousand temples. A full day spent with a professional guide will give you a fascinating insight into the history and culture of Japan's ancient capital. While sightseeing you might be lucky enough to see a dusting of snow on the temple roofs, or the streets of Gion where you will spend an afternoon having tea with an apprentice geisha.

What's included
Eleven nights' accommodation (three nights Japanese-style)

Breakfast every day, three dinners, four lunches

14-Day Japan Rail Pass

Airport transfer from the airport at the start of your trip

Eight-hour private guide services in Tokyo and Kyoto with lunch and entrance fees

An evening Izakaya Experience in Tokyo

Soba making experience in Matsumoto

Cooking class in Takayama

Afternoon tea with a maiko in Kyoto

Pocket WiFi device

Your personalised InsideJapan Info-Pack
What's NOT included:
International flights

Local transport (buses, subways, taxis) at any destinations

Any entrance fees including those for shrines, temples and museums

Baggage handling - you will be expected to carry your own bags for the duration of the trip

Airport transfer at the end of your trip
Trip Highlights
Spend a day with a local professional guide to get to grips with the sights of Tokyo

Try your hand at making traditional soba noodles

Enjoy an evening food safari around Tokyo
Visit the famous snow monkeys of Yudanaka Onsen

Speed east on the bullet train between Kyoto and Tokyo
For more information email us: [email protected] or call: + 61 7 3186 8800
What, where, when and how...
Snow Country - 12 Days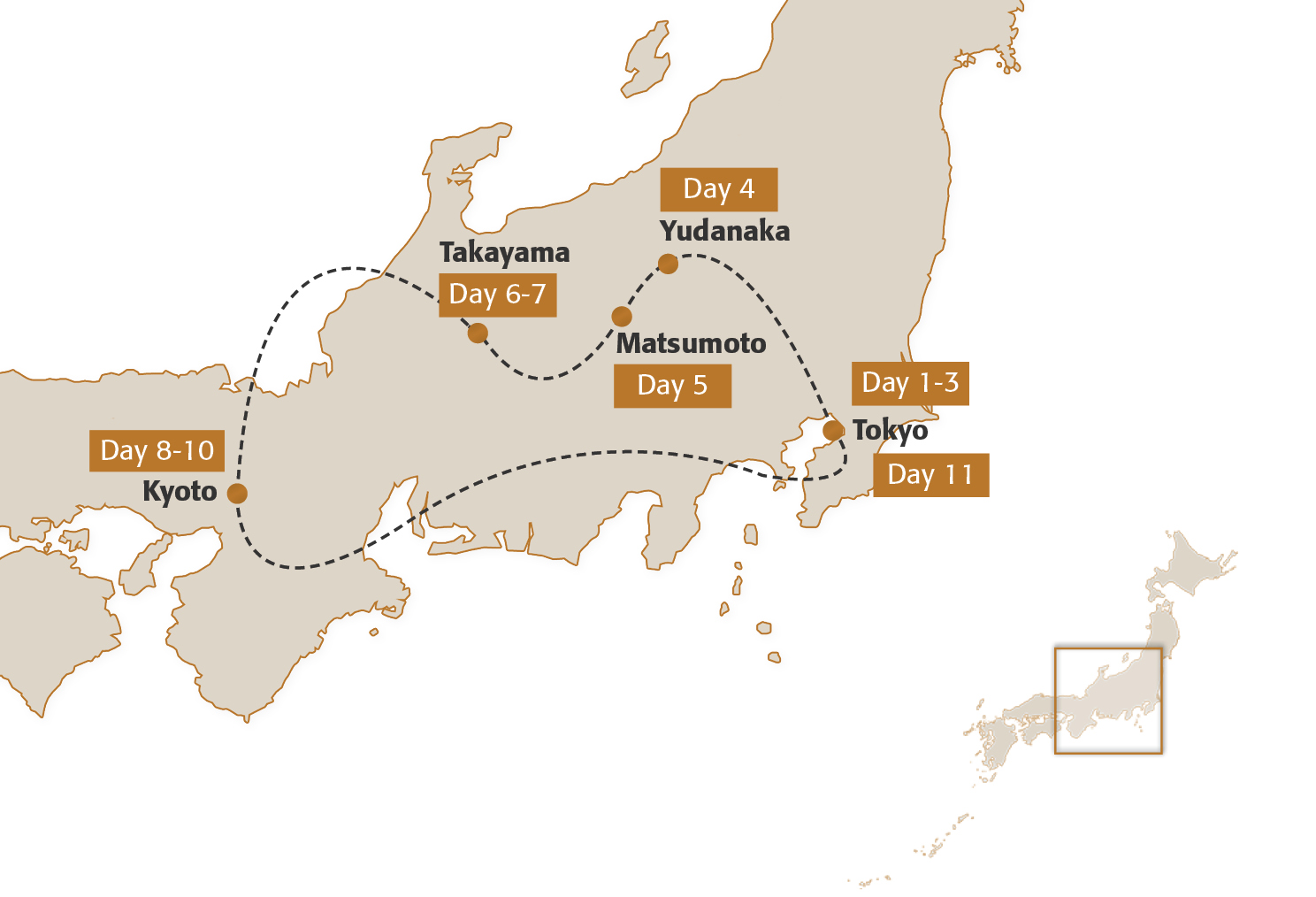 Snow Country - 12 Days - Day by Day
Snow Country - 12 Days - Accommodation
Day 1-3

Delve into the vibrant streets of Tokyo with a private guide, then rub elbows with the locals at a lively izakaya evening experience

Welcome to Japan! A private car will be waiting at the airport to whisk you to your accommodation in the city in comfort. The traditional area of Asakusa will be your home in Tokyo for these three days, and we've chosen a hotel located close to Kaminarimon, the majestic Thunder Gate which marks the entrance to Tokyo's oldest temple, Senso-ji. You can spend a leisurely first afternoon in the city exploring the shops and food stalls along Nakamise Street leading from Kaminarimon to the main temple.
On your first full day we have arranged for a professional English speaking guide to show you the ropes and guide you through the city to all of the places you want to visit. Fancy seeing some cutting-edge architecture, or visiting a traditional garden tucked away amongst the skyscrapers? Let us or the guide know and we can easily arrange it.
Now that you've got a basic understanding of the train network in the city, it's time to head out on your own for a day of sightseeing, and your Info-Pack is chock full of extra ideas of what to see and do. In the evening we've arranged for one of our Insiders – native English speakers who live in Tokyo – to take you on a unique night out at some top izakaya, Japan's answer to a humble pub, often hidden down the backstreets and known only to locals. Your Insider will introduce you to some of our favourite lively spots for refreshing drinks and warming dishes. Cheers!

Overnight: Gate Hotel Kaminarimon

Day 4

Walk through the snowy forest to Jigokudani Monkey Park where you can see the famous snow monkeys lounging in their beloved hot springs

Say farewell to the bright lights and head west into the snowy mountains of Nagano. The walk through the forest leading up to Jigokudani Monkey Park where the macaques while away their day soaking in the outdoor hot springs will be a snowy one, so be sure to wrap up warmly.
This evening you can mimic the monkeys and take full advantage of the private hot spring bath in your room at the authentic ryokan inn where you will spend the night on cosy thick futon the tatami mat floors. A full kaiseki course dinner awaits you.

Overnight: Jinpyokaku Honten

Day 5

Get stuck into a soba noodle making experience, and explore the samurai castle city of Matsumoto

This morning it's a short journey to Matsumoto an old samurai city which provides a fascinating contrast to Tokyo. The majestic "Black Crow" castle in the centre of the city is of course the main attraction, and is often considered to be one of the most beautiful original castles in Japan thanks to its unique colouring.
After visiting the castle there's plenty more to do in Matsumoto; a visit to the ukiyo-e woodblock print museum just outside the city centre is well worth it. The following day we've arranged for you to have a soba making class, where you'll learn how to make (and eat!) the famous noodles from scratch.

Overnight: Buena Vista Hotel

Day 6-7

Wander the traditional wooden streets of Takayama and try your hand at making Hida cuisine

We've reserved tickets for you to take the Highway Bus from Matsumoto to Takayama, a journey which will lead you through along winding roads besides rivers and huge dams in the picture-perfect snowy Japan Alps.
Another traditional inn will be your base for your stay in this well-preserved mountain town. A delicious course dinner will be prepared for your first night, but on the second night you have the freedom to explore one of the local restaurants in the area.
After enjoying the fresh local cuisine, on your second day you'll have the chance to make it yourself! The included group cooking class is a fantastic way to learn about the ingredients and dishes unique to Hida cuisine, and of course you'll get the chance to taste-test your creations for lunch.

Overnight: Tanabe Ryokan

Day 8-10

Learn about Japanese culture from a local guide, and meet a maiko for afternoon tea in a traditional Gion tea house

Today it's onwards to Kyoto, using your Japan Rail Pass on the trains. As the former imperial capital, Kyoto is the cultural heart of the country; indeed, it has so many temples and shrines that it would be impossible to visit them all even if you stayed for two weeks. Fortunately, we have arranged for another private guide to take some of the hardship out of getting around all of the famous sights, and they'll even be able to lead you away from the major tourist spots to some lesser-known gems. To ward of the wintery chill, be sure to stop by a tea house to warm up with a steaming bowl of matcha green tea.
Later that afternoon your sightseeing will lead you to Gion, the traditional geisha district with its tiny streets lined with wooden houses and teashops, where afternoon tea with an apprentice geisha, known as a maiko, awaits. Your guide will accompany you to provide English translation services.
On your second day we've built in time for you to take a day trip to any number of destinations. Our favourite option is Nara, the capital before Kyoto, is only 40 minutes away by train, and has a wonderful array of UNESCO World Heritage sites and some very friendly deer. Other possible trips include the food mecca Osaka, an easy 30 minute train ride away, or the castle town of Himeji with its original feudal period gleaming white castle. Your Japan Rail Pass is valid on all of these routes, so you are free to come and go as you please.
The following morning you must bid farewell to Kyoto and return by bullet train to Tokyo – keep your eyes peeled for a glimpse of elusive Mount Fuji as you pass by.

Overnight: Celestine Kyoto Gion

Day 11

Return to Tokyo for a last night in the Shinjuku area of this bustling city

With the end of your trip just around the corner, it's now time to do a last spot of sightseeing to souvenir shopping. You'll be staying in the Shinjuku area, known for its neon-spangled skyscrapers and plethora of shops, bars, and restaurants.
At the end of your trip, you can either retrace your route to the airport, or you can add on some extra days skiing in another part of the country – just let us know your preferences and we can plan accordingly. We hope you have a safe journey home.

Overnight: Century Southern Tower
View all days
Day 1-3

Delve into the vibrant streets of Tokyo with a private guide, then rub elbows with the locals at a lively izakaya evening experience

Welcome to Japan! A private car will be waiting at the airport to whisk you to your accommodation in the city in comfort. The traditional area of Asakusa will be your home in Tokyo for these three days, and we've chosen a hotel located close to Kaminarimon, the majestic Thunder Gate which marks the entrance to Tokyo's oldest temple, Senso-ji. You can spend a leisurely first afternoon in the city exploring the shops and food stalls along Nakamise Street leading from Kaminarimon to the main temple.
On your first full day we have arranged for a professional English speaking guide to show you the ropes and guide you through the city to all of the places you want to visit. Fancy seeing some cutting-edge architecture, or visiting a traditional garden tucked away amongst the skyscrapers? Let us or the guide know and we can easily arrange it.
Now that you've got a basic understanding of the train network in the city, it's time to head out on your own for a day of sightseeing, and your Info-Pack is chock full of extra ideas of what to see and do. In the evening we've arranged for one of our Insiders – native English speakers who live in Tokyo – to take you on a unique night out at some top izakaya, Japan's answer to a humble pub, often hidden down the backstreets and known only to locals. Your Insider will introduce you to some of our favourite lively spots for refreshing drinks and warming dishes. Cheers!

Overnight: Gate Hotel Kaminarimon

Day 4

Walk through the snowy forest to Jigokudani Monkey Park where you can see the famous snow monkeys lounging in their beloved hot springs

Say farewell to the bright lights and head west into the snowy mountains of Nagano. The walk through the forest leading up to Jigokudani Monkey Park where the macaques while away their day soaking in the outdoor hot springs will be a snowy one, so be sure to wrap up warmly.
This evening you can mimic the monkeys and take full advantage of the private hot spring bath in your room at the authentic ryokan inn where you will spend the night on cosy thick futon the tatami mat floors. A full kaiseki course dinner awaits you.

Overnight: Jinpyokaku Honten

Day 5

Get stuck into a soba noodle making experience, and explore the samurai castle city of Matsumoto

This morning it's a short journey to Matsumoto an old samurai city which provides a fascinating contrast to Tokyo. The majestic "Black Crow" castle in the centre of the city is of course the main attraction, and is often considered to be one of the most beautiful original castles in Japan thanks to its unique colouring.
After visiting the castle there's plenty more to do in Matsumoto; a visit to the ukiyo-e woodblock print museum just outside the city centre is well worth it. The following day we've arranged for you to have a soba making class, where you'll learn how to make (and eat!) the famous noodles from scratch.

Overnight: Buena Vista Hotel

Day 6-7

Wander the traditional wooden streets of Takayama and try your hand at making Hida cuisine

We've reserved tickets for you to take the Highway Bus from Matsumoto to Takayama, a journey which will lead you through along winding roads besides rivers and huge dams in the picture-perfect snowy Japan Alps.
Another traditional inn will be your base for your stay in this well-preserved mountain town. A delicious course dinner will be prepared for your first night, but on the second night you have the freedom to explore one of the local restaurants in the area.
After enjoying the fresh local cuisine, on your second day you'll have the chance to make it yourself! The included group cooking class is a fantastic way to learn about the ingredients and dishes unique to Hida cuisine, and of course you'll get the chance to taste-test your creations for lunch.

Overnight: Tanabe Ryokan

Day 8-10

Learn about Japanese culture from a local guide, and meet a maiko for afternoon tea in a traditional Gion tea house

Today it's onwards to Kyoto, using your Japan Rail Pass on the trains. As the former imperial capital, Kyoto is the cultural heart of the country; indeed, it has so many temples and shrines that it would be impossible to visit them all even if you stayed for two weeks. Fortunately, we have arranged for another private guide to take some of the hardship out of getting around all of the famous sights, and they'll even be able to lead you away from the major tourist spots to some lesser-known gems. To ward of the wintery chill, be sure to stop by a tea house to warm up with a steaming bowl of matcha green tea.
Later that afternoon your sightseeing will lead you to Gion, the traditional geisha district with its tiny streets lined with wooden houses and teashops, where afternoon tea with an apprentice geisha, known as a maiko, awaits. Your guide will accompany you to provide English translation services.
On your second day we've built in time for you to take a day trip to any number of destinations. Our favourite option is Nara, the capital before Kyoto, is only 40 minutes away by train, and has a wonderful array of UNESCO World Heritage sites and some very friendly deer. Other possible trips include the food mecca Osaka, an easy 30 minute train ride away, or the castle town of Himeji with its original feudal period gleaming white castle. Your Japan Rail Pass is valid on all of these routes, so you are free to come and go as you please.
The following morning you must bid farewell to Kyoto and return by bullet train to Tokyo – keep your eyes peeled for a glimpse of elusive Mount Fuji as you pass by.

Overnight: Celestine Kyoto Gion

Day 11

Return to Tokyo for a last night in the Shinjuku area of this bustling city

With the end of your trip just around the corner, it's now time to do a last spot of sightseeing to souvenir shopping. You'll be staying in the Shinjuku area, known for its neon-spangled skyscrapers and plethora of shops, bars, and restaurants.
At the end of your trip, you can either retrace your route to the airport, or you can add on some extra days skiing in another part of the country – just let us know your preferences and we can plan accordingly. We hope you have a safe journey home.

Overnight: Century Southern Tower
Close all days
Other trips you may like
Tokyo
Kanazawa
Shirakawago
Takayama
Matsumoto
Tsumago
Kyoto
Tokyo

A budget 14-night adventure taking you into the heart of old Japan, with traditional accommodation and visits to the historic cities of Tokyo & Kyoto.

14 nights: from AU$4066 pp (twin share) Read more >

Tokyo
Kanazawa
Shirakawago
Takayama
Matsumoto
Tsumago
Kyoto
Tokyo

Enjoy the very best in traditional Japanese hospitality as you discover old Japan through a range of exclusive experiences on this deluxe 14-day trip.

14 nights: from AU$16625 pp (twin share) Read more >

Tokyo
Hakone
Kyoto
Hakuba
Nagano
Tokyo

Japan is a first class winter sports destination with a twist. Why not combine skiing or snowboarding with a taste of the unique Japanese culture?

13 nights: from AU$5833 pp (twin share) Read more >