Self-Guided Adventure
Niseko Deluxe
15 Nights: price on request
Trip Code: ND
This deluxe itinerary includes five days in Hokkaido's largest and most popular ski resort, Niseko;a two-night visit to Sapporo, Hokkaido's capital; stays in the must-see cities of Tokyo and Kyoto; plus the chance to pay a visit to Yudanaka Onsen's famous snow monkeys. Read more >
For the world's best powder snow there's no better option than to head to Hokkaido, where cold winds sweep in from Siberia dumping more and more fresh snow every day.
During your five nights in Niseko we've included an all-mountain pass, which covers the four main ski areas of Grand Hirafu, Hanazono, Higashiyama and Annapuri. There are a huge variety of pistes to suit everyone, from beginners to experts, and plenty of runs catering to snowboarders. We can also arrange additional snow experiences: lessons, ski guides, snowshoeing, snowmobiling - just let us know what you'd like to do!
This holiday is not just about winter sports. We've also included days with private guides in Tokyo, Kyoto and Sapporo: three very contrasting cities with a wealth of temple, shrines, museums, architecture, food and drink to explore! In Kyoto you'll stay in a gorgeous ryokan-hotel hybrid where you have all the benefits of traditional warm hospitality with the modern comfort of beds, whilst in the other cities you'll stay in wonderfully modern, luxurious hotels. For your final night we've even thrown in a stay at the iconic Tokyo Park Hyatt, immortalised in the film Lost in Translation.
Japan's most famous animal residents are the snow monkeys of Yudanaka Onsen up in the Japanese Alps, and we couldn't resist including this in the itinerary! This also gives the opportunity for journeys on the iconic <i>Shinkansen</I> bullet train, in first class seats of course.
What's included
15 nights' deluxe accommodation

Breakfast every day and two evening meals

Private car airport transfers

All transport between destinations including domestic flights and private car transfers

First class train tickets

Manaca transport card with 2,500 yen credit for city transport

Eight hours private guide service in Sapporo, Tokyo and Kyoto (including lunch & entrance fees)

Niseko all mountain ski lift pass

Pocket WiFi device

Your personalised InsideJapan Info-Pack
What's NOT included:
International flights

Local transport (buses, subways, taxis) at any destination unless otherwise specified

Any entrance fees for shrines, temples and museums on days without a private guide

Baggage handling or luggage forwarding

Ski equipment hire
Trip Highlights
Ski or snowboard on fresh powder snow in Niseko

Stay in fantastic deluxe hotels

Visit the lovely snow monkeys!
Explore Tokyo, Kyoto & Sapporo with a private guide

Overnight in traditional ryokan in Kyoto & Yudanaka Onsen
Take the iconic Shinkansen bullet train
For more information email us: [email protected] or call: + 61 7 3186 8800
What, where, when and how...
Niseko Deluxe - 16 Days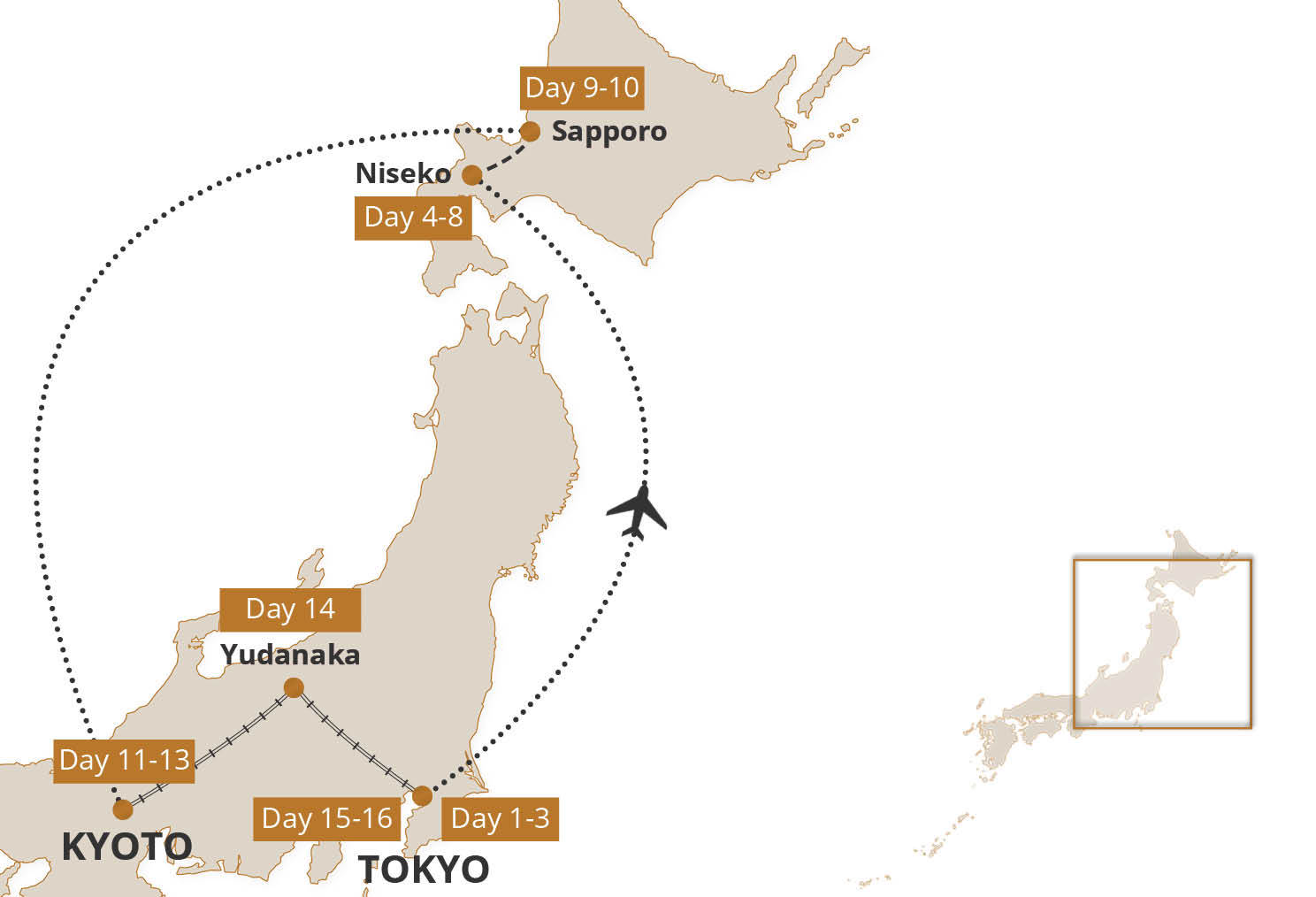 Destinations
Niseko Deluxe - 16 Days - Day by Day
Niseko Deluxe - 16 Days - Accommodation
Niseko Deluxe - 16 Days - Experiences
Day 1-3

Discover Tokyo with the help of a private local guide.

Welcome to Japan! To start off your holiday in style you'll be staying in the upmarket Ginza district, full of fantastic restaurants, boutique shops and innovative architecture.
On your first full day in the capital you'll have the services of a private local guide for an eight-hour tour of the city. The itinerary is flexible and can be tailored to suit your interests, but a great start would be to visit Tsukiji Fish Market and then stroll through Hamarikyu gardens, where you can take tea in a picturesque teahouse. Then take a boat up the Sumida River to historic Asakusa to see Senso-ji Temple before checking out one of the fascinating museums in Ueno Park.
With another full day in the city you'll be free to continue exploring Tokyo under your own steam. You might like to visit Shibuya, an exciting shopping district full of futuristic skyscrapers. Just outside Shibuya Station is the iconic scramble crossing used by thousands of people use everyday, and a little further north is Harajuku -where teenagers dressed in outlandish cosplay fashions hang out every Sunday. Right next-door is the beautiful Meiji Shrine; so peaceful and tranquil, it's hard to believe this shrine complex is right in the centre of Tokyo!

Overnight: Mandarin Oriental Tokyo

Day 4-8

Fly north to Hokkaido, Japan's snowswept northern island, for four full days of fresh powder snow in Niseko.

A private car will take you to Tokyo Haneda Airport today, from where you'll fly north to Sapporo - the main city on Hokkaido Island. Another private car will be waiting to take you the further three hours to your accommodation in the fantastic ski resort of Niseko. With a bit of luck a fresh load of powder will have arrived from Siberia, just in time for you to start skiing or snowboarding!
You have four full days for skiing or snowboarding (or both!) in this world-class resort, where we have included an all-mountain lift pass to give you the full run of the four ski areas: Grand Hirafu, Hanazono, Higashiyama and Annapuri. The pass also covers night skiing and shuttle buses between the areas.
Our ski packages are very flexible, so do let your travel consultant know if you'd like us to include ski equipment, clothing hire, lessons, or any extra experiences - from backcountry guided tours to snowmobiling and cat skiing or even igloo-building!

Overnight: Green Leaf

Day 9-10

Take a brewery tour, sample superb seafood and explore Sapporo – Hokkaido's cosmopolitan capital city.

Today a driver will take you by private car to Sapporo, the largest and liveliest city in Hokkaido. Sapporo is a lot of fun all year round and this afternoon we recommend taking a brewery tour or strolling through Odori Park in the centre of the city. There's plenty of fantastic seafood on offer in the city and we can recommend restaurants or make a dinner reservation for you.
On your second day in the city a private guide will take you on a full day tour of Sapporo. There's plenty to see, including Sapporo Tower, the botanical gardens, Nijo Market and the former Olympic ski jump. Rounding off the day we highly recommend taking in the night view of Sapporo from Mount Moiwa.

Overnight: Cross Hotel Sapporo

Day 11-13

Discover 17 UNESCO World Heritage Sites in Kyoto, Japan's imperial capital for over 1,000 years.

A short train ride will take you back to Sapporo Airport, from where you'll fly south to Osaka in the Kansai region of Japan's main island. A private driver will be waiting to take you from Osaka Kansai Airport to Kyoto. Befitting your time in Japan's cultural capital, in Kyoto you'll stay in a beautiful, historical ryokan where a veritable banquet of kaiseki haute cuisine will be included on your first night.
There is a staggering amount to see in Kyoto: 17 UNESCO World Heritage Sites and plenty more temples, shrines and gardens besides! A private guide will help you get the most out of your time in here. We recommend choosing some of the classic sights like the Kinkaku-ji Golden Pavilion (which looks beautiful in the snow) and Kiyomizu-dera, and then going to some lesser known gardens and shrines where your guide can explain more about the history and culture of these fascinating cities.
After an action-packed day of sightseeing you'll have another day at your leisure in which to further explore the city. The bamboo groves of the Arashiyama district are well worth a visit, and Nishiki Market is packed with interesting street food and cooking ingredients. Other options include the beautiful garden at Tenryu-ji, Iwatayama monkey park, Togetsukyo Bridge and the stunning Hozu River gorge.

Overnight: Sowaka

Day 14

Have your heart melted by Yudanaka's famous onsen-bathing snow monkeys.

No winter trip to Japan would be complete without a visit to the very special snow monkeys, who escape the harsh cold of the Japanese Alps by bathing in the area's natural hot springs. It's a fairly long journey from Kyoto, first on the Shinkansen bullet train and then on a limited express train, but well worth it for the scenic mountainous countryside you'll travel through.
Tonight you'll stay in a lovely traditional ryokan with superb indoor and outdoor hot spring baths. Only humans are allowed in these hot springs, but walk for about 45 minutes through snowy forest and you'll come to the pools the snow monkeys enjoy.

Overnight: Jinpyokaku Honten

Day 15-16

Return to Tokyo by Shinkansen bullet train for an exciting final night in the capital.

Hopping back on the Shinkansen bullet train, today you'll be whisked back to Tokyo for your last full day in Japan. You'll have the afternoon and evening free for any last-minute shopping or sightseeing, or simply to enjoy all the fantastic facilities at your luxury hotel.
Sadly your Japan adventure must come to an end, and on your final morning a private car will take you back to Narita Airport in time for your flight home.

Overnight: Park Hyatt
View all days
Day 1-3

Discover Tokyo with the help of a private local guide.

Welcome to Japan! To start off your holiday in style you'll be staying in the upmarket Ginza district, full of fantastic restaurants, boutique shops and innovative architecture.
On your first full day in the capital you'll have the services of a private local guide for an eight-hour tour of the city. The itinerary is flexible and can be tailored to suit your interests, but a great start would be to visit Tsukiji Fish Market and then stroll through Hamarikyu gardens, where you can take tea in a picturesque teahouse. Then take a boat up the Sumida River to historic Asakusa to see Senso-ji Temple before checking out one of the fascinating museums in Ueno Park.
With another full day in the city you'll be free to continue exploring Tokyo under your own steam. You might like to visit Shibuya, an exciting shopping district full of futuristic skyscrapers. Just outside Shibuya Station is the iconic scramble crossing used by thousands of people use everyday, and a little further north is Harajuku -where teenagers dressed in outlandish cosplay fashions hang out every Sunday. Right next-door is the beautiful Meiji Shrine; so peaceful and tranquil, it's hard to believe this shrine complex is right in the centre of Tokyo!

Overnight: Mandarin Oriental Tokyo

Day 4-8

Fly north to Hokkaido, Japan's snowswept northern island, for four full days of fresh powder snow in Niseko.

A private car will take you to Tokyo Haneda Airport today, from where you'll fly north to Sapporo - the main city on Hokkaido Island. Another private car will be waiting to take you the further three hours to your accommodation in the fantastic ski resort of Niseko. With a bit of luck a fresh load of powder will have arrived from Siberia, just in time for you to start skiing or snowboarding!
You have four full days for skiing or snowboarding (or both!) in this world-class resort, where we have included an all-mountain lift pass to give you the full run of the four ski areas: Grand Hirafu, Hanazono, Higashiyama and Annapuri. The pass also covers night skiing and shuttle buses between the areas.
Our ski packages are very flexible, so do let your travel consultant know if you'd like us to include ski equipment, clothing hire, lessons, or any extra experiences - from backcountry guided tours to snowmobiling and cat skiing or even igloo-building!

Overnight: Green Leaf

Day 9-10

Take a brewery tour, sample superb seafood and explore Sapporo – Hokkaido's cosmopolitan capital city.

Today a driver will take you by private car to Sapporo, the largest and liveliest city in Hokkaido. Sapporo is a lot of fun all year round and this afternoon we recommend taking a brewery tour or strolling through Odori Park in the centre of the city. There's plenty of fantastic seafood on offer in the city and we can recommend restaurants or make a dinner reservation for you.
On your second day in the city a private guide will take you on a full day tour of Sapporo. There's plenty to see, including Sapporo Tower, the botanical gardens, Nijo Market and the former Olympic ski jump. Rounding off the day we highly recommend taking in the night view of Sapporo from Mount Moiwa.

Overnight: Cross Hotel Sapporo

Day 11-13

Discover 17 UNESCO World Heritage Sites in Kyoto, Japan's imperial capital for over 1,000 years.

A short train ride will take you back to Sapporo Airport, from where you'll fly south to Osaka in the Kansai region of Japan's main island. A private driver will be waiting to take you from Osaka Kansai Airport to Kyoto. Befitting your time in Japan's cultural capital, in Kyoto you'll stay in a beautiful, historical ryokan where a veritable banquet of kaiseki haute cuisine will be included on your first night.
There is a staggering amount to see in Kyoto: 17 UNESCO World Heritage Sites and plenty more temples, shrines and gardens besides! A private guide will help you get the most out of your time in here. We recommend choosing some of the classic sights like the Kinkaku-ji Golden Pavilion (which looks beautiful in the snow) and Kiyomizu-dera, and then going to some lesser known gardens and shrines where your guide can explain more about the history and culture of these fascinating cities.
After an action-packed day of sightseeing you'll have another day at your leisure in which to further explore the city. The bamboo groves of the Arashiyama district are well worth a visit, and Nishiki Market is packed with interesting street food and cooking ingredients. Other options include the beautiful garden at Tenryu-ji, Iwatayama monkey park, Togetsukyo Bridge and the stunning Hozu River gorge.

Overnight: Sowaka

Day 14

Have your heart melted by Yudanaka's famous onsen-bathing snow monkeys.

No winter trip to Japan would be complete without a visit to the very special snow monkeys, who escape the harsh cold of the Japanese Alps by bathing in the area's natural hot springs. It's a fairly long journey from Kyoto, first on the Shinkansen bullet train and then on a limited express train, but well worth it for the scenic mountainous countryside you'll travel through.
Tonight you'll stay in a lovely traditional ryokan with superb indoor and outdoor hot spring baths. Only humans are allowed in these hot springs, but walk for about 45 minutes through snowy forest and you'll come to the pools the snow monkeys enjoy.

Overnight: Jinpyokaku Honten

Day 15-16

Return to Tokyo by Shinkansen bullet train for an exciting final night in the capital.

Hopping back on the Shinkansen bullet train, today you'll be whisked back to Tokyo for your last full day in Japan. You'll have the afternoon and evening free for any last-minute shopping or sightseeing, or simply to enjoy all the fantastic facilities at your luxury hotel.
Sadly your Japan adventure must come to an end, and on your final morning a private car will take you back to Narita Airport in time for your flight home.

Overnight: Park Hyatt
Close all days
Other trips you may like
Tokyo
Hakone
Kyoto
Miyajima
Osaka
Takayama
Tokyo

A superior two-week itinerary taking in Japan's most iconic sights, with four-star accommodation and a programme of cultural experiences included.

14 nights: from AU$10108 pp (twin share) Read more >

Iiyama
Togarinozawa Onsen

Lace up your hiking boots for a three-day hike along the Sekida Mountain's Shin-Etsu Trail.

3 nights: from AU$1520 pp (twin share) Read more >

Tokyo
Kanazawa
Shirakawago
Takayama
Matsumoto
Tsumago
Kyoto
Tokyo

Discover traditional Japan through its beautiful ryokan inns, delicious cuisine and a range of cultural experiences on this superior itinerary.

14 nights: from AU$10868 pp (twin share) Read more >